Note from Snack - Sorry it's a day late, Diego got it to me on time, my fat ass just fell asleep after work yesterday so I didn't get it posted. My bad. But enjoy, all the links are still relevant, and I think it'll be a nice lil addition to your Tuesday...
It is March again which means two things for Diego, March madness NCAA hoops and St Patty's day drunken mayhem. Neither are quite here yet, but both are on the horizon. This weekend wrapped up the regular season of NCAA basketball, so that means that this week is conference tournament week. I also got a chance to see Pitt live this weekend so lets start the Hangover with some hoops talk.
Pitt gives the DePaul hoops team a chance to enjoy their spring break
Pitt finished its season yesterday with a 98-79 victory over Big East team DePaul, at home at the Pete on senior day. The loss for DePaul means they will not be making an appearance in this years Big East tourney at Madison Square Garden. This was the last home game for seniors Ron Ramon, Keith Benjamin, Mike Cook (out with injury), and Maurice Polen.
(Pic from post-gazette.com)
Introducing the newest members of the Pittsburgh XPlosion!!!
After losing three in a row, the Panthers have bounced back to win three of their last four games to end the season. It was mostly all offense on Sunday at the Peterson center, as Pitt managed to score 98 points (their 2nd highest point total all year) with six players kicking in to score double digits (all 5 starters plus Gilbert Brown). DePaul stayed in the game due to freshmen Dar Tucker who scored 23, and gave the Pitt defense trouble all game long.
The balance of the offense was key in the victory for Pitt, but their defense is still suspect. Allowing a team like DePaul to score almost 80 points is never a good sign. Still the Dixon led Panthers will be making the big dance for the 7th straight season, which is an impressive accomplishment. It is easy to complain about Pitt never making it past the sweet 16, but this basketball team stunk for so many years (in the 1990's) it's good to see that they have turned the program completely around.
-Levance Fields is feeling better, finally. Fields had his best game since injury, and arguably best game of the season yesterday. He had 9 rebounds, 9 assists, and 11 points. Fields was looking very Jason Kidd like hustling, making plays on both ends, and leading the Pitt offense.
- Dejuan Blair is a monster. I know I have been saying this all year, but this kid has game. He snatches up every rebound near him, and just looks bigger and stronger then his opponents. He plays psychical and I like it. I'll keep the NBA comparison's going and say he's got some Elton Brand game for sure.
- There are times when Sam Young is unstoppable out there. Young is a gifted scorer and playmaker, if he doesn't take his talents to the NBA next year, Pitt may have a candidate for not only Big East player of the year, but player of the year period.
*** Pitt's Sam Young has been voted to first team All-Big East team, while freshman Dejuan Blair received honorable mention (aka he got shafted).***
NCAA and Conference Tourney News
Pitt has Cincinnati in the first round of the Big East tournament Wednesday at 7 PM.
Robert Morris lost Mt. Saint Mary's 83-65, killing their chances of a NCAA tournament bid.
Duquesne has a first round match with LaSalle also on Wednesday in the A-10
Penguins- Time to get down to it.
For once we are on point here at PN@ and have already posted a recap of yesterday's Pen's action, so here is just a few thoughts about the team…
-Fleury is the man. The Penguins higher up's have shown that their allegiance lies with the Flower. As far as I am concerned, there is nothing wrong with this as he is our franchise goalie. On top of that, Fleury's ego is more fragile then Conklin's is so it's better to give him his PT (playing time) so it won't mess with his head.
-There has been debate about what to do with the power play lines once Hossa returns from injury. I like the idea of splitting up Malking and Crosby, and giving each their own PP line. It seems Malkin plays with more confidence without Crosby by his side. Also, keeping the two separate will drive opposing coaches crazy, as they try to match up their top penalty kill units against each superstar's line.
Goodbye Wire
In un-sports related news, the series finale of The Wire aired last night on HBO. The Wire is my favorite TV show of all time and after 5 seasons, it concluded in true Wire fashion, conveying the message that the more things changed, the more they stayed same. I won't snitch as to what happened, but if you haven't seen it already you need to get on demand and check it out ASAP. The Wire will be greatly missed here at PN@.
(Pic from hbo.com)
Is it Slim Charles' time to shine?
(Pic from hbo.com)
Or is Cheese in charge?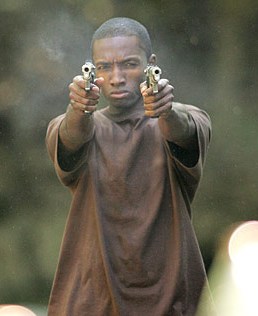 (Pic from flowtv.org)
Or is Marlo still the man?
Until lata...