It is not only uncommon, but it is unheard of for all four number 1 seed's to make it the to the final four in the NCAA Tournament. This year a record was set as Memphis, UCLA, UNC, and Kansas all marched through the first four games to make it to San Antonio. We are set up for some top-notch heavyweight battles this Saturday.
Since we've been slacking a little over here at PN@ Diego and Snack decided to put up a special bonus edition top ten based on the NCAA tournament. Since it is destine to be a number one seed winning it all this year, we bring you… the Top 10 Number 1 Seed's to Win the NCAA Tournament.
10. 2000 Michigan State Spartans-
I don't know what it is about Tom Izzo, but the man knows how to coach hoops, especially during the NCAA tournament. 2000's final four featured a couple surprise teams in eighth ranked Wisconsin and North Carolina. However, MSU faced Florida in the championship, beating them 89-76. The Spartans were led by point guard Mateen Cleaves (18 points and 4 assists) who played on a sprained ankle but still had an outstanding game, and AJ Granger (19 points). Both of which were on the all tourney team. Michigan State also featured future NBA players Mo Peterson and Jason Richardson.
9. 1999 U-Conn Huskies-
After an impressive run through Georgetown and Notre Dame, the U-Conn Huskies won the Big East tournament and advanced on to the Big Dance as a #1 seed. This team had a chip on their shoulder and was eager to solidify their reputation as one of the big dogs in college b-ball, since at the time the Big East was softer then twinkie filling. Having players such as Rip Hamilton, Khalid El-Amin, and Caron Butler made this task a little easier, but facing a Duke team with a 32 game win streak in the title game, did not. With perseverance and a good game plan by long overdue head coach Jim Calhoun (he won his first National Title after 27 years of coaching) the Huskies were able to control the tempo of the game and defeat the Blue Devils 77-74.
8. 1994 Arkansas Razorbacks-
Besides the fact that this one quality NCAA basketball team, there are two other reasons that I included them on the list… One is the nickname of their superstar player Corliss "Big Nasty" Williamson (one of the greatest nicknames EVER) and also the moniker given to their style of play, it was known as "40 Minutes of Hell". This was because the crimson and white caused nightmares for opposing teams, and if you don't believe me then just ask Duke star Grant Hill who was held to only 12 points in the title game.
This team beat you with its depth; its second unit was almost as good as the first. They played in your face defense and used full court pressure all game long to disrupt the other team. Despite having a lack of superstars (other then Big Nasty) Arkansas almost won back-to-back titles in 94 & 95.
7. 1995 UCLA Bruins-
UCLA has a legacy in college basketball and has won a record 11 National Championships since 1964. 1995 was their most recent title as they ruined Arkansas' chance at winning back-to-back championships. This team lacked the depth that was displayed by Arkansas, but still managed to win the contest mostly due to O'Bannon brothers. Outstanding tournament player, Ed Obannon, had 30 points 17 rebounds and Charles added 11 points and 9 rebounds. This team may have been less flashy then other teams on this list, but they were still impressive nonetheless.
6. 1984 Georgetown Hoyas-
Big time teams are led by big time players, and the 1984 Georgetown Hoyas had one of the most talented big men to ever play college basketball, Patrick Ewing. Ewing was an imposing force that controlled the paint on both ends of the court; the Hoyas reached the NCAA finals 3 times with Ewing on the team (losing twice by a total of 3 points). Coached by John Thompson, this G-Town team was one of the scariest of all time, with a dominant steel-trap defense with Ewing at the helm. These were the glory days of the Big East, and Georgetown was the leader of the pack. This was also the year that the tourney field expanded from 48 to 64, and the Hoyas won it all 84-75 over Houston.
5. 2005 North Carolina Tar Heels-
North Carolina is another school with a deeply rooted basketball tradition. This was one of the most impressive starting lineups of any NCAA team ever (Marvin Williams, Sean May, Raymond Felton, and Rashad McCants were all 1st round draft picks the following year). Their fast paced style of play led to many blow out victories. Sean May dominated the championship game against the smaller Illinois team, who had no answer for the NC big man. May's 21st birthday was the same day as the game and he celebrated in the best was possible by scoring 26 points on 10-11 shots with 12 rebounds, an outstanding player of the tournament award, and of course a National Title.
4. 2007 Florida Gators-
The first of two teams on the list that won back-to-back titles. The Gators dominated college sports in 06 & 07 winning both the football and basketball Championships, beating Ohio State in both. After winning in 2006 all 5 starters (Joakim Noah, Corey Brewer, Lee Humphrey, Al Horford, and Tauren Green) all got together and decided to give it another run for their money, it was a good decision on their part. All the previously mentioned players were NBA draft choices, and only one was picked outside the first round (Green). This team, coached by Billy Donovan, was an unstoppable force. It may be a long, long time before we see another team win it all back-to-back.
3. 1992 Duke Blue Devils-
Duke is right up there with the New England Patriots and the New York Yankee's as one of the most hated sports teams in the USA. Regardless of your opinion on Duke, this 1992 team deserves props for it's stellar season. This Mike Krzyzewski led team had one of the most potent offenses in NCAA tournament history with players like Bobby Hurley, Grant Hill, Cherokee Parks and Christian Laettner (the famous buzzer beating turnaround jumper occurred in the final four game against Arizona).
Also, their D was nothing to sneeze at either. A 71-51 victory over the Fab 5 of Michigan proved this teams greatness, as they won their 2nd consecutive title. The main reason I ranked them higher then the aforementioned Florida team is because back in 1992 people actually stayed all 4 years in college, so the competition was tougher then it is today.
2. 1990 UNLV Runnin' Rebels-
Also known as "Tumbleweed Tech" cause of its obscure location, UNLV plays in the Mountain West Conference. This team was one of the most dominant, unselfish, hardworking, and tough in college basketball history. They proved this by consistently beating teams by double digits (24 times in the 1990 season). They are also credited with the most lop-sided championship game victory, 103-73 over Duke. The stars of this team were Anderson Hunt (most outstanding player of Final Four), Greg Anthony, Stacey Augmon, and Larry Johnson. The team coached by Jerry Tarkanian was often described as men playing with boys. In my professional opinion, this Runnin' Rebel team could kick the crap out of all four final four teams this year.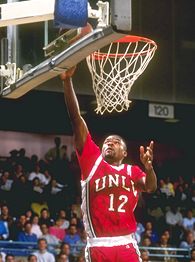 1. 1982 North Carolina Tar Heels-
The year 1982 marked the beginning of the dynasty of a man named Michael "Air" Jordan (easily the most famous and recognizable basketball player in the world), and this game marked his coming out party. Granted there were only 48 teams in the tournament this year I still felt the need to include this team on the list. Legend Dean Smith was coach, and their star player was "Big Game" James Worthy. UNC battled its way to the title game against Big East powerhouse, Georgetown, a daunting and admirable opponent.
James Worthy scored 28 points in the game, but was overshadowed by the young Jordan. MJ's role started out slowly in the beginning of his freshman year, but by the big game he had established himself as both a playmaker and clutch scorer. The jumper that won the game for the Tar Heels, 63-62, catapulted the young Jordan to nation wide fame and recognition. Once Jordan got his foot in the door he never left the media spotlight and is still prevalent today in his many ad's (Hanes) and products (his Air Jordan shoe and clothing line).
BONUS LINKS
100 greatest college basketball players of all time
10 Greatest 3-pointers in NCAA tournament history
10 Ugliest uniforms in college basketball
10 Coolest uniforms in college basketball
Until lata...