We know the Buccos just won their opener (in true Pirate fashion I might add) and that the Pens are a point away from clinching the Atlantic...we know this. But since it's March Madness and our Pitt Panthers gave us alot to cheer for with their Big East Tourney Championship and Bobby Knight predicting them to win the National Title, we decided we'd pay an homage to them with our Top 10 Pitt Basketball Players Ever...
Keep in mind, however, that Diego and Snack are youngsters - so alot of these old guys on here were placed where they were based on the advice of our respective old men and old people at the bar...So feel free to add your comments tellin us which other old timers we may have missed simply by being 25 years old...
10. Eric Mobley- 6'11" Center, Bronx, NY (1990-1994), Mark Blount- 7'0" Center, Yonkers, NY (1995-1997), Aaron Gray 7'1" Center, Tarzana, California (2003-2007), and Chris Taft 6'10" Center, Brooklyn, NY (2003-2005)-
We lumped these players together because when you think of dominant big men that played at Pitt in recent history, (1990's & 2000's) their names come to mind. Not only that, but also all four of these big guy's had a pretty high shooting percentage, and also made it to the NBA (at least for a little while in Taft's case). Gray was arguably the most successful player out of this group, after struggling to start his Pitt career, he won most improved player in 2005-06 (also was first team Big East that year). He was also an All American the following season. Taft had the most potential out of all of the above players (he won Big East freshman of the year in 2003-04), but was often criticized for taking plays off and basically being a slacker. Taft opted to go to the NBA Draft in 2005 and his career was a failure only playing one season for the Golden State Warriors.
My ball punk...
9. Sean Miller- 6'1" Guard, Beaver Falls, PA (Blackhawk) (1987-1992)-
Sean Miller is a local guy who grew up in Beaver Falls and went to high school at Blackhawk, he was also was a 4 year starter for Pitt. Miller made an immediate impact for the Panthers earning Big East freshman of the year honors, and leading Pitt to a 24-7 record and the NCAA tournament. Miller's achievements at Pitt include 3 NCAA births, an 80-48 record, 1282 career points, and a Big East championship. Pitt has had quality point guard's for just about the last 20 years and Sean Miller was the one who started the run, with his amazing ball control. Miller has also enjoyed a successful career as a coach. He has coached Xavier for four years and has accumulated two 20-win seasons and won an A-10 tournament.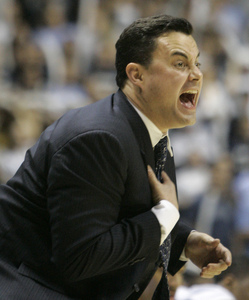 Miller could be Dixon's replacement if he pulls a Howland and heads west...
8. Ricardo Greer 6'5" Guard/Forward, New York, NY (1997-2001)-
Unfortunately for Ricardo Greer he kinda got the poop end of the stick. Meaning, he got to Pitt a little too early and missed out on playing for the quality Ben Howland led Pitt teams of the early 2000's. Ricardo didn't get a whole lot of help during his tenure at Pitt, but he still managed to score 1753 points, 6th most in Pitt history, which is impressive. Greer was top 10 at Pitt in assists with 373 (9th), rebounds with 888 (6th), and field goals made with 672 (6th). Not too shabby considering the he didn't have all that much help on the court.
A face only a mother could love...
7. Julius Page 6'3" Guard, Buffalo, NY (2000-2004)-
Julius Page was one of the leaders of the most winning four-year class in Pitt history. From 2000 to 2004 Pitt and Page went an impressive 107-30 (a winning percentage of .781). Page also scored 1512 points in his career made it to three sweet 16 appearances. Page had awesome offensive prowess with the ability and quickness to beat players off the dribble and score. He also had exceptional leaping and dunking skill, and had the range to drain three pointers consistently. In 2003 Page won the Big East Tournament most outstanding player, leading Pitt to a championship over U-Conn, the crowning moment for this Pitt team. This was the last Big East tournament championship the Panthers had won, before this year's win over Georgetown.
The other JPizzy...
6. Carl Krauser- 6'0" Guard, Bronx, NY (2002-2006)-
Carl Krauser was a polarizing figure at Pitt, either you loved his "street ball" style play or you hated it. Either way, the point guard accomplished a lot. He definitely improved his play as he matured, as his 2003-04 most improved player in the Big East award proved. Krauser also was an all American that year as well. Carl Krauser was best known for his ball handling ability as well as his clutch shooting (and also his forearm crossing X celebration to pay respect to his home town and homeboy's in the Bronx, NY). He was the only player in Pitt history to score 1500 points, have 500 rebounds, and 500 assists (1642, 526, 568). He currently is playing for the Pittsburgh Xplosion (where I am sure they appreciate the X celebration).
No, you can count, on me, waiting for you in the parking lot...
5. Jerome Lane- 6'6" Forward, Akron, Ohio (1985-1988)-
This man is responsible for the greatest and most replayed Pitt basketball highlight of all time, everyone who watches Pitt sports has to have seen this highlight at least a couple hundred times, easy. Of course I am referring to the highlight of Jerome Lane shattering the backboards with an earth shaking slam-dunk. (see below) Although Lane is probably most known for this dunk he also had a very successful career at Pitt winning two Big East championships and being named an All-American twice in 1986-87 and 1987-88. At only 6'6" Lane was a rebounding machine (much like current Panther Dejuan Blair) and actually led the nation in rebounding averaging 13.5 a game in 86-87. Jerome made it the NBA as a first round selection in 1988.
4. Brandin Knight-6'0" Guard, East Orange, NJ (1999-2003)- PN@ ranks Brandin Knight so high on the list because we believe he was the catalyst which spring boarded Pitt hoops from mediocrity to NCAA powerhouse. Versatile point guard Brandin Knight played for Pitt during the same tenure in which Ben Howland turned the team around, from 1999 to 2003. Knight bought into Howland's philosophy of tough psychical play, stout defense, and unselfish and controlled offense. Knight was an expert at controlling the tempo of games by slowing everything down in order to execute and take teams out of their game plan. He excelled when the pressure was on, and he gave 100% effort, hustling on every play. He won many awards during his stay at Pitt; including Co-Big East player of the year, most improved player, and All-American in the 2001-02 season. Brandin Knight was one of the smartest basketball players to ever take the court for Pitt, and he is now utilizing his hoops IQ as director of basketball operations for Pitt.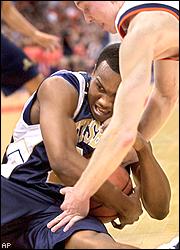 Everyday I'm hustlin'...
3. Billy Knight- 6'7" Forward, Braddock, PA (1971-1974)-
We showed love to players of the 1980's, 90's and 2000's. Therefore its only logical we gotta give props to the best player to play for the Panther's during the 1970's, and that player is Billy Knight. Knight is a hometown guy hailing from Braddock, PA. In only 78 games for Pitt he managed to score a whopping 1731 points, that is an average of 22.2 points per game. Knight was a solid all around player breaking the 1000 point, 600 rebound, and 200 assist plateau for Pitt (1731, 938, and 206). Knight led Pitt to an imposing 22 game win streak in 1973-74, and also led the Panthers to their last elite 8 appearance also in 1974.
Smooth criminal...
2. Charley Hyatt- 6'0" Forward, Uniontown, PA. (1926-1930)-
We are throwing it way back for this one to the days of super duper short shorts, wild hair, and high socks. Hyatt led Pitt to not one but two national championships in 1928 & 1930 (hitting the game winner in 1930). Hyatt won so many honors and awards it's hard to mention them all; he was a 3-time All American, a 2 time National scoring leader, National player of the year in 1930, led Pitt to a record of 60-7, and is a member of the Naismith basketball Hall of Fame (1959). It may have been a very long time ago, but Hyatt was the caliber of player Pitt needed to win it all. If only this year's team had a scorer like him we mighta made it to the 2nd weekend of the tourney.
1. Charles Smith-6'10" Center/Forward, Bridgeport, Conn (1985-1988)-
Charles Smith is responsible for revitalizing the Pitt program in the 1980's and bringing the team into a national spotlight. He made Pitt a household name in the sport of basketball. Smith holds the Pitt record for scoring with 2,045 career points (in only 3 seasons) and also was named as number 8 of the 50 greatest Big East players of all time. Smith was the only Pitt player ever to be a member of the Olympic basketball team in 1988, he also was named Big East player of the year, and brought home a Big East title, that same year. Charles was honored as Big East freshman of the year and was a two time All American. Along with Jerome Lane he terrorized Big East teams, dominating the glass and paint (he had 987 rebounds). Smith also was the first Pitt player to become a 1st round NBA draft pick, and he enjoyed a 10-year NBA career.
Numero Uno...
Honorable mention - Jerry "Ice" McCullough, Chevon Troutman, Jaron Brown, Clyde Vaughn, Sam Young and Vonteego Cummings
Until lata...