It's the day after the Super Bowl and I'm pretty sure most of our loyal readers are good and hung over. So after weeks of hype, a lot of money spent on commercials, 60 minutes of football, and millions of chicken wings and pizza's eaten worldwide the Super Bowl is finally over. No more football till the end of the summer time so let me recap the spectacle that was the Super Bowl to give you something to reflect upon…
Pre-game
Every year it seems like the Super Bowl pre-game show begins earlier and earlier. I am still waiting for the day when the coverage will begin at the Maxim party that is going on the night before game. Seriously though it was going on all day long yesterday, and I couldn't really bare to watch it all it was just too painful.
What I did catch seemed to be all American Idol'd out. Fox was really promoting the shit out of this stupid show. (And I don't understand why seeing as how they already get 30 million viewers a week, greedy bastards) There was Paula Abdul lip-syncing to her new song and looking like her usual junked up self (I think Randy was there to catch her incase she passed out or OD'd), there was last year's winner (don't know her name sorry) singing the anthem, and finally our very own Big Ben staring in an Idol commercial. (I'll give it to him it was funny though… also Talbot, Armstrong, Geno, and Gonchar might wanna ask him for some acting pointers) Oh and lets not forget Ryan Seacrest, how in the hell did he get invited to attend this thing; although he no doubt enjoyed seeing all those players in their tight little pants.
The Crowd
Now we all know that the Super Bowl isn't about football, really its just one big party that goes on all week long and culminates with a football game on Sunday night. So which celeb's did we spot at the big game last night?
I saw Frank Caliendo with some pretty juicy seats (shout out to Frank for calling the upset hope you put your money where your mouth was).
Also Jenny McCarthy and Jim Carrey were in attendance, Jenny was still looking pretty smoking hot.
Some one who didn't look so hot was Pam Anderson, who was hurtin for certain (past her prime, sorry Pam).
We saw Gisele sipping on some cabernet (Note from Tony Romo: Might wanna leave the girlfriend at home next time Tom)
Finally, Peyton Manning was seen what seemed like at least 20 times cheering on little bro Eli.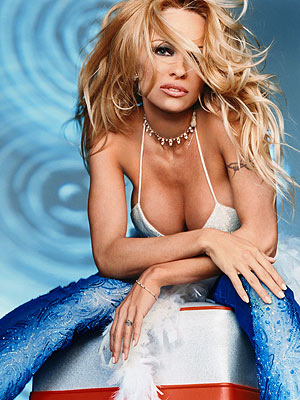 Aw the good old days Pam… Pic from timeinc.net
The Game
Giants win 17-14! Well, well looks like Diego might actually know what he's talking about with his Top 10 reasons why the Patriots will lose. (link that) No more perfect season pop those bottles '72 Dolphins! Might as well forget about that trademark for "19-0 The perfect season" cuz you're not so perfect now.
Wow where to start? This game had a pretty amazing end, but up until that fourth quarter I coulda fell asleep watching it. There is not a lot to be said when the most exciting play of the game, until the last drive, was a 45 yard reception by Kevin "Big Boss Man" Boss. Safe to say that this woulda been the worst Super Bowl ever if the Patriots woulda ended up pulling out another come from behind win. Albeit, this didn't happen so here are some thoughts and facts from the game.
The Giants suited up seven out of their eight 2007 Draft Picks in the Super Bowl. That includes 7th rounder Ahmad Bradshaw who led the game in rushing yards with 9 rushes for 45 yards.
Giants only had one Pro Bowler on their team, Osi Umenyiora. The Patriots had 8 Pro Bowlers on their squad.
Looks like it's the giggling Tom Brady who was the one that shoulda kept his mouth shut about the whole "only 17 points?" business.
Seeing as how Junior Seau and his stupid ass hats can't win the big one, maybe he was the whammy for the Patriots this year?

WHAMMY! Pic from signonsandiego.com
There's no crying in football! Oh wait maybe there is as Plax starting squirting at the end of his post game interview.
Tom Petty looked better then I expected him to on my buddy Geno's enormous HD TV, but he still looked like he was high on something. (As reader SeanKidd texted me, it looked like he was copping some of that boy off Marlo from the Wire) Either way not a bad halftime I suppose.
Jeff Feagles he had one hell of a day punting, when they needed him to do his job he did it well. Gotta respect the lone remaining player from Nintendo's Tecmo Super Bowl . Good to see ole' gray bush get his ring, and I think he got robbed out of the MVP for the sexier choice, Eli.
The Gmen defense deserves some serious props for their play last night. I am pretty sure that the crispy fade that Michael Strahan got before the game made him more aerodynamic, making it easier for him to hit Tom Brady a whole bunch of times last night.

Ballin! Pic from nydailynews.com
Maybe it was Tiki Barber who was the whammy in NY? Tiki quits in his prime, and then proceeds to badmouth his former coach, Coughlin, and quarterback, Eli Manning, before the start of the season. All the G-Men have done since then is make history and win a ring, and now Tiki is just an afterthought. Sucks to be him.
Playoff MVP Eli Manning outplayed NFL MVP Tom Brady, and the Patriots and Belichick were out coached and out classed by NY Giants and Tom Coughlin.
I hate Belichick's guts, that hoodie he was rocking, as my buddy TB pointed out, looked like a Giants hoodie since it was red and he since he was crossing his arms the whole game (maybe he's trying to hug himself cuz no one loves him). Goin for it on 4th and 13? Nice call "genius"! Also, I think he is a real douche for leaving the field before all time had expired. I am sure he is salty he lost, but at lest you can act like a man!
You blew it!
Stay tuned for Part Duex coming soon…