DOH!
Well the big Memorial Day weekend is behind us, and our Penguins come home down 2 games to none against the Red Wings. Pens were dominated in game 1 losing 4-0, and last night's game wasn't much different as Chris Osgood and company blanked the Pens 3-0.
It is easy to say that the Penguins were jittery on Friday seeing as how it was the first Stanley Cup Final for the majority of our players. Fleury made same good saves, but he also let in a wrap around score for the first goal of the series. (a save Fleurys been making in the past series)
In both games the Wings have managed to control the puck, moving it efficiently from end to end, with little problem. Detroit has also managed to keep the Penguins offense in check limiting them to only 18 and 22 shots.
Worst of all the Penguins have yet to even register one goal in the first 120 minutes of these Finals.
Crosby has been giving it his best effort, but the Wings have players draped all around him in the neutral zone, limiting his mobility. Malkin has been nonexistent in the series thus far and may have burned out once again this season as he complained of being tired after the loss.
Help Wanted
One thing is for sure, with our top 2 players not contributing someone needs to really step up and make a plan for this Penguins team. A lot of players have looked sharp in the series (Staal, Malone, and Hossa) but still we don't seem to be in the right place at the right time to score.
You may see Therrien once again shake up the lines on Wednesday night for game 3, not that it worked out too well in game 2.
The way things shaped up in Detroit reminded me a lot of the Penguins playoff series against the Ottawa Senators last year. The Penguins looked like they were watching as the other team played their game, instead of stepping up and making things happen. They just simply aren't being as aggressive as they were in the past, granted the Red Wings do make a lot less mistakes then other teams the Pens have played.
Another similarity from that series last year is that it seems like there are way more Detroit players out there then Penguins. They always seem to have 2 or even 3 guys around the puck, and not just in the defensive zone, but also in the neutral zone and offensive end.
The Pens aren't scoring first (they're not even scoring at all). Hell we even struggled to get shots, or even the pick in their zone, early on in the game.
Lastly Geno Malkin has once again disappeared. I know he doesn't deserve all the blame for the loses, but after playing the way he did in January through April its tough to watch him go out there and be a non-factor. Maybe that punishment Philly put on him is taking its toll.
Back to the Burgh for Game 3 Wednesday night, here's hoping 18,000 friendly faces can help the young Pens turn this series around (or at least score one goal).
Some links to try to take your mind off the Pens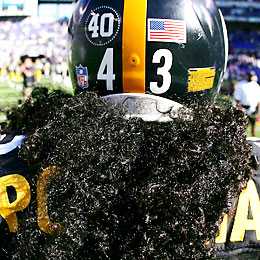 Troy Polamalu is working out with his old trainers in California so he can be more explosive and try to avoid injuries, that's what I'm talking about!
Joey Porter is one man who has never been afraid to speak his mind when he has a mic in his face, that's why they love to give him one. In his latest rant he goes off on those cheatin' New England Patriots.
Did you ever wonder what happened to Chris Fuamatu-ma'afala? No he's not selling insurance Tommy Maddox style, and no he's not an American Gladiator.
File this under the first national sports article in a long ass time about the Bucco's, that isn't based on their losing streak. Thank you Nate McLouth!
Until lata...