Time to shave those playoff beards...
Man do I wish I was at the Mellon Arena yesterday for game 5 versus the Philadelphia Flyers. Not only was that place rocking, but I also coulda avoided seeing those damn edge shaving cream and Dockers commercials 50 more freakin times.
Seriously though, it's easy to nitpick about commercials when your team is completely dominating in a championship clinching game. I'm actually pretty happy the Penguins lost in game 4 because A) it was awesome winning in front of the home crowd and B) it gave all those Philly fans false hope that their team actually stood a chance against us. (Good thing Kimmo Timonen played yesterday) The Penguins did their best job of taking away what little hope Flyers fans did have left by scoring early and often yesterday.
Shave my face with a rusty razor...
So much for the Flyers being too psychical for the Penguins to handle. The Pens showed yesterday when they stick to their game plan the other team can't match up; no matter what tactic they try. Not only did many players step up during this series with the Flyers, but the Pens also proved that they aren't afraid to get psychical as well. Give the Flyers credit for making it this far though, I guess, as they were a horrible, horrible team last season. The Penguins just had too much firepower to be stopped.
Bow Down Philly
Everyone in the city of Pittsburgh was happy and celebrating last night as the Penguins return to the cup for the first time since Diego was just a wee lad in 1992; everyone except for the Penguins that is. I know its upsets the hockey gods if you touch the Prince of Wales trophy, but I definitely expected somewhat more of a celebration after the win. (guess these guys celebrate by scoring goals)
No bottle popping for this team though as the Pens were strictly business after the game. Now just like us the team will sit and wait to see who is ends up being best in the west. Note from Snack - my guess is the boys celebrated by hittin' up the local watering holes and shootin' it around with some puck bunnies. I mean really, they're 21 years old; how would you be celebrating?
More Pens Links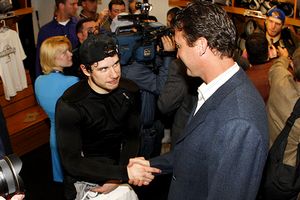 Crosby and Geno Malkin have a chance to accomplish something unheard of in the world of hockey, and even the world of sports, if they can manage to manage towin the Stanley Cup.
Hear Mike Lange every time your phone rings! Pens ringtones, what will they think of next?
Ever wonder what the Stanley Cup is made of? Find out the answer to that and anything else you could ever want to know about the Cup right here.
And finally, even more Stanley Cup folklore and myths (apparently there's even some ladies' names on it!)
Until lata...