10. They run up the score...
Seriously going for it on 4th down when you already got the game well in hand? Leaving your all-pro QB in the game till the bitter end no matter what? It is just unnecessary for this team to constantly blow out opponents. If you have the game won why don't you put in some backups? No wonder everyone outside of Boston hates you.
9. Randy Moss...
The knock on the Pats used to be that they didn't really have a big name wide out for Brady to throw to, but that all changed in the off-season with the signing of crybaby Randy Moss. We all have heard the stories that Moss quit on his team in Oakland and then publicly cried about his situation until they released him. And we've all seen him pouting on the bench, but I guess he's happy now that all he's doing is catching TD's from Tom Brady all day long. Once a jagoff always a jagoff, if you ask me, you shoulda went to Green Bay Moss, you suck at life!
(Pic from projo.com)
Randy Moss, role model to children everywhere...
8. The Patriots fans are annoying...
The only Pats fan I like is the dude from NFL network commercials, and he is imaginary. "How could I forget about the blonde bomba" As far as I'm concerned the rest of those annoyingly accented, clam chowder eating, bastards can kiss my as$. These fans are so obnoxious about their team it makes me sick. Half of them are probably just jumping on the bandwagon. We all know that the Red Sox are the most popular team in town anyway you fair-weather jerk offs. In an all out no holds barred brawl I would put my money on the Steeler nation any day of the week.
7. Their old balls linebackers...
Not only are the Pats linebackers older then dirt, but they also cheat. Vrabel is a whiner and all he does is take cheap shots, such as in the Cleveland game when he dove at the knees of tackle Joe Thomas with 11 seconds left in the game winning 34-17. Then there's Ted Bruschi, who knows when he'll have another steroid induced stroke, look at the size of his head and tell me he's not on the juice. Finally, Junior Seau who 'retired' from the Dolphins only to sign with the Pats four days later. This guy has been playing for like 20 years, he probably wears depends during games so he doesn't drop a JoePa in the middle of missing a tackle.
(Pic from cdn.news.aol.com)
Ooops, I crapped my pants!!!
6. Wes Welker's creepy mustache...
I was watching sportscenter on Monday morning all hungover and BAM out of nowhere appears Wes Welker, and he was sporting what I believe is a pretty creepy 'stache. Maybe he should try to call up Wannestadt and get a few pointers on growing a 'stache like a real man, instead of like a 15 year old kid. Good thing Wes keeps his helmet on while he's shown on TV cuz if he didn't this mustache would be creeping people out across the country. Maybe Wes is just going for the Uncle Rico look, who knows? (note from Diego: me and Snack tried hard to find a pic of the stache but we failed miserably, if I were him I wouldn't be taking pics of it either, so be sure to check it out Sunday during the game)
5. They're cheaters...
Sure they say every team in the NFL does it they just don't get caught…. Oh ya thanks for trying to rationalize your cheating for us, but remind me how many other teams have been busted taping opponents plays? That's right it's a big fat zero. The NFL is going to take away their first round pick, but if you ask me that's just a slap on the wrist. Not only did they tape play calls from opponents but they've also been accused of paying out bounties if, for example, the defensive line holds a rusher under a certain amount of yardage, and the ref's have been called out for making calls in there favor. How much help do these bastards need?
4. Rodney Harrison is an admitted cheater...
I suppose you can call Harrison the "tough guy" of the Patriots defense, he took over this roll after Ty Law left a few years back. Harrison is usually the one running his yapper, and he used to be able to back up his tough talk back in his younger days at least. Nowadays Harrison is past his prime and washed up, and I am assuming these are the reasons why he cheated and took HGH. Did you see that exchange between him and Raven's coach Brian Billick on Monday night? I wish he would try some nonsense like with Mike Tomlin, who is only 10 months older then Harrison. Tomlin wouldn't blow any kisses, but he probably would sprint at Harrison and Goldberg spear the sh*t out of him right there on the field.
3. Tom Brady and his illegitimate child...
The man can do no harm as a football player, but in real life Tom is known to get around. Now I'm not saying that Tom has any VD, but we already have evidence he doesn't like to wrap it up. It would be nice for him to get some type of flare up before the game Sunday; it makes it harder to throw a football with itchy nuts and discharge. This dude has banged every model/actress in Hollywood… who's next Britney?? I wouldn't do it Tom you know she is fertile and I'm sure that child support to Bridget Moynahan is already taking a nice chunk of change out of your pocket. I agree with the WDVE morning show, if we are somehow losing in the 4th quarter we should bring out Leo DiCaprio to make out with his ex-lady, and Tom's current main squeeze, Gisele on the sideline.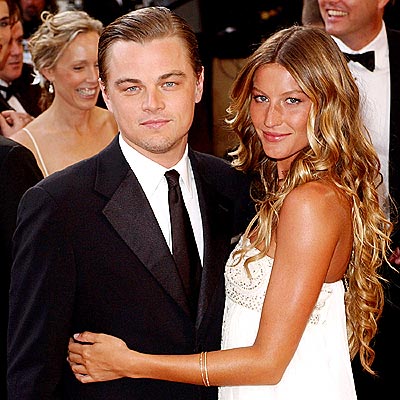 (Pic from people.com)
How are those sloppy seconds treatin' ya, Tom?
2. The media's constant admiration of this team...
Every f'n network, it doesn't matter which one it is, rides the d*ck of Tom Brady and his precious Pat's, and it literally makes me want to puke. How annoying was it the week they played the Colts? We heard about this game nonstop for a week it was pretty frustrating. I am so sick of hearing about the Patriots week in and week out on every sports segment on TV, radio, and newspaper. Even during other team's games announcers feel it is necessary to make references and comparisons to Brady and the Pats, it's just ridiculous. I don't remember the Colts getting this much attention when they were undefeated a few years ago. Also, I hate that humble pie crap that the Patriots try feeding to the media. You aren't the underdog after you win 3 Super Bowls you a*sholes!
(Pic from viewimages.com)
President of the Tom Brady man-crush fan club...
1. Bill Bellichek and his stupid hoodie...
I think Bill Bellichicken (thanks Carl) is the most hated man in sports today. That is quite a bold proclamation, as there are convicted and accused felons, murders, rapists, drug dealers, thugs, and gangsters spread throughout professional sports. This dude is just an all around jagoff though, he wears that dumb hoodie every game, he always has that constipated look on his face, he talks with that monotone voice of his, he runs up the score on team's, and he would barely even hug his own former offensive coordinator after he played him last year. I heard a rumor that even Bellichek's own mother hates his guts. I can't believe that people in Boston actually buy that freakin cut off hoodie he wears (not only buy it but its sold out everywhere). Whenever he is on the sideline he reminds me of some panhandler down on Liberty Ave begging for my pocket change.
(Pic from sportsillustrated.cnn.com)
A face not even a mother could love...
---