Diego is busy at work today, so for the time being I'm gonna fire some links up for ya to keep you occupied...He should have something for ya lata today or tomorrow, and I'm going to throw up a recap of the Pens game later on tonight...
Enjoy, and don't forget to check out our new top 10 list on Mondesi's House...this week's is a good one, and last week's was picked up by Sports Illustrated Online and Deadspin, so we're pretty happy with where it's heading...
(Pic from youthoughtso.com)
YEAAAAAAAAAA!!!!!!
Here's a link to a new Pens fight song on youtube, brought to you by the Soul Merchants...(thanks for the link guys)
The Pens are back in action tonight against the Panthers...Last game was great, with Ruutu scoring his first goal in a little under a century. We need another strong performance from Conklin, and some more scoring from the likes of Talbot, Armstrong and Taffe would be nice - at least until Sid and old man Roberts get back. Check out the clip below, it's what ole Jarkko is a little more used to doing...
In NBA news, it looks like the on again, off again trade of Jason Kidd to the Mavericks is on again. Basically, the Mavs get Kidd and the Nets get 2 first round picks, Devin Harris, Diop, and a bunch of expiring contracts (plus $3 million)...I dunno how this will help the Mavs seeing as the rest of the West got big men, but we'll see. Kidd is still the best assist man in the league and can play D with the best of them, so maybe Cuban and his boys were just looking for a leader with some toughness (sorry, Dirk)...
The Marlins may have found a use for old Snack... apparently, cheerleaders aren't enough - they want fat guys to go and dance around and make asses out of themselves. Snack is always down to do a little Tootsie Roll for the fans, especially if he's had a few...if you wanna see Snack perform, the best place is Crystal's on Penn Ave...Diego and him are regulars on Friday Kareoke night, so come on down and watch the show. I promise it doesn't disappoint...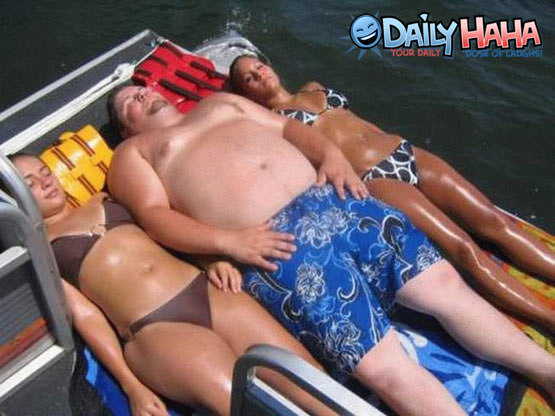 (Pic from dailyhaha.com)
Is that Big Snack?
And finally, our boy Cotter over at One for the Other Thumb knows how to blog when the Steelers are off...He made a little top 10 list of his own, and as long as you like the ladies, you should check it out...
Until lata