The Pens lost last night, 3-2 to the Colorado Avs...It was an OK game, with the Pens jumping out to a 2-0 lead, but, of course, the hometown Avs made a rousing comeback and put young Danny Sabourin in his place...At least Sid had two goals, maybe this and his four point game against the Wild will get him back on his usual God-like pace...
Hang your head buddy, hang your head ...
It looks like no matter who we have in the crease, the soft goals continue...I think we may need to get another goaltender for the stretch run if we plan on winning the Cup this year...Maybe a Chris Osgood sighting? And what ever happened to Moose, he'd be a great fit...Here's a recap of the game from ESPN for you to check out...
As far as last night went, we went to the William Penn Tavern in Shadyside...since Snack's back was in shambles he wasn't there long enough to review the bar, but he did notice low priced drinks and that the waitresses were pretty good lookin...All in all, not a bad joint, definitely worthy of your time...
For links, I'm only going to put up a couple this morning as Diego (hopefully) is doing a bunch of links and his usual Pens recap for this afternoon...
Hope you like re-runs...The Writers Guild of America is discussing walking out, which would mean production would halt on all shows using WGA writers...so basically everything but reality tv...God help us all...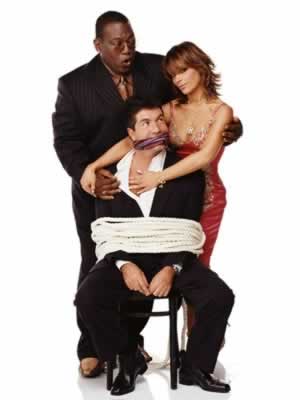 Please, WGA, don't let this be all we see on TV...
Finally, it looks like Dog got ratted out by his own son, Tucker...It was Tucker's girlfriend Dog was going off about, but I think old Tucker's just pissed cause he's never on the show. His cage fighting, bounty hunting, Dog loving brother Leland is gonna beat the snot outta him...
Would you want this big-eared bastard coming after you?
Until lata...
---